Private Ballroom Dance Lessons & Group Classes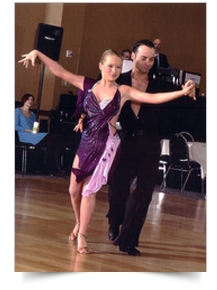 Dance Instruction (Adults)
Columbus Dance Centre is dedicated to providing high quality Ballroom & Latin Dance instruction in Columbus Ohio.
First-time students can get an Introductory Special - First FREE Private Lesson (30 min.). One of our professional dance instructors will show you the benefits of private ballroom dance lessons. We will introduce you to a few dance elements, different dances, and explain our dance courses and class schedules. Call us Today at 614-759-0502.
Private lesson is meant to address the students' individual needs. Up to 90% of the time can be spent acquiring the students' individual, technical and essential movement skills, as well as variety in their Ballroom or Latin dancing. Private lessons can be done as a single person or as a couple. This is the fast-track to learning and doing. We offer private instruction in American and International Styles, teaching dances like: Waltz, Foxtrot, Salsa, Tango, Cha Cha, Swing, Hustle, Rumba, V.Waltz, Quickstep, Bachata, Samba, Merengue, Mambo and many more.
Whether you have a special occasion coming up or just want to feel comfortable in a party situation, you will want to try our Ballroom Social Dance Program where you will learn necessary basics while having fun.
And if you are getting married, our Wedding Program will help you create unforgettable memory, impress your friends and be most comfortable dancing couple in your wedding.
For all our Group Classes - NO PARTNER NEEDED!